Last updated: Feb 2, 2021
In an effort to mitigate the spread of COVID-19 within our community and to assist our students, faculty and staff in managing the challenges associated with the COVID-19 pandemic, the University has taken a number of actions and adopted a range of practices and protocols. They are outlined in the following announcements.
Recent Announcements
Update on Winter Quarter Instruction
In a message to the campus community, the Chancellor announced that remote instruction will be allowed to continue for two additional weeks. In-person instruction is now scheduled to resume in full January 31, 2022. The campus, including housing and student services, the Library and the RecCen will remain open. Between January 18 and January 31, instructors may continue to offer instruction remotely or choose to teach in person. Students who remain off campus, or who must isolate or quarantine following COVID-19 protocols, will be provided reasonable opportunities to participate remotely in any in-person class. In addition, students who choose to remain off-campus during this period are requested to return at least six days prior to the resumption of in-person instruction on January 31, in order to obtain a COVID-19 test on campus and, if necessary, complete the 5-day isolation period. Additional details can be found in the January 8, 2022 communication.
Staff and Faculty Booster Requirement, Testing and Masking Protocols
Updated vaccine requirements and the specifics of campus plans for testing and masking this winter are outlined in a new message from the COVID-19 Response Team. All faculty and staff accessing any UC facility are now required to obtain a COVID-19 booster vaccine by February 4, 2022, to comply with UC's SARS-CoV-2 Vaccine Program. UCSB will partner with Santa Barbara County Public Health Department on a vaccine booster clinic at Embarcadero Hall January 11, 18, 21, 25, and 28. Appointments are available via MyTurn. In addition, all faculty and staff coming to campus this quarter are strongly encouraged to obtain a campus COVID-19 test as soon as possible. Appointments for in-person tests, or to drop off a self-administered test, can be made via the Student Health Portal. The message also reiterated campus masking requirements, including that all indoor spaces are subject to the mandate. Complete details on all requirements and protocols can be found in the January 6, 2022 communication.
Winter Quarter Testing Reminders
With Winter Quarter underway, the campus medical team is reminding all students who will be on campus that they are required to obtain a campus COVID-19 test. The team also strongly recommends and encourages testing for all faculty and staff who are coming to campus. 

Testing is available to the campus community without charge. Appointments can be made at the Student Health Patient Portal to either test in-person, or to pick up a test kit then drop off a specimen. In the latter option, the appointment time is for specimen dropoff. Kits can be picked up from the COVID-19 testing site at Loma Pelona Center anytime between 8 a.m. and 4 p.m. weekdays, but samples must be returned within 4 hours of collection. Anyone planning to prepare their samples right away for immediate submission to the clinic must do so at least 100 feet from the site as a safety precaution, in addition to maintaining at least 6 feet distance from other people.

Please note that beginning January 25, 2022 students, staff, and faculty will be required to log in to the patient portal using Duo, a multi-factor authentication tool that provides an added layer of security to the login process. Learn how to enroll in Duo at https://www.it.ucsb.edu/mfa.
Interim Student Guidelines for Testing, Booster Vaccination, and Masking
In a December 27 message to students, the COVID-19 Response Team described logistics related to testing, vaccination and masking that will facilitate an orderly return to campus and start of Winter Quarter instruction. 

All students who will be on campus during Winter Quarter are required to obtain a campus COVID-19 test at the beginning of the quarter.
Booster vaccinations must be completed by January 31, 2022.
All indoor spaces on campus, including research spaces, remain subject to the masking requirement.
Full guidelines can be found in the December 27 communication. A similar message was delivered to staff and faculty on December 29.
UCSB Athletics Spectator Policy
In accordance with UC system-wide COVID-19 guidance and in response to the uncertainties concerning the Omicron variant, spectators will not be permitted at UCSB Athletics home events through January 17. All home events will continue to be streamed live on ESPN+ and the Stretch Internet portal on UCSBGauchos.com. View the full release for additional details.
Update on the Beginning of Winter Quarter Instruction
Given the uncertainties around the Omicron variant, UC Santa Barbara will begin winter quarter with two weeks of remote instruction. The quarter will begin as scheduled Monday, Jan. 3, and in-person instruction will resume Tuesday, Jan. 18, following the Martin Luther King, Jr. Day holiday, subject to reassessment of the situation early in the quarter. The decision to delay in-person teaching is related to supporting students and instructors, particularly those who either test positive over winter break and cannot travel back to campus on time, or who test positive upon arrival and need to isolate. The two-week period of remote instruction allows students and instructors to navigate any COVID-19-related health issues or delays without the worry of missing classes, and also to get their booster doses if they have not already done so. More information can be found in the Chancellor's Dec. 21 message to the campus community.
COVID-19 Boosters and Testing
As the holiday break approaches, any students, faculty and staff who have not yet received a COVID-19 booster shot are urged to do so prior to the start of Winter Quarter. In a new message to the campus community, the COVID-19 Response Team also strongly recommends obtaining a flu shot and encourages everyone — regardless of whether symptoms are present or not — to test for COVID-19 the day before returning to campus in January. Unvaccinated individuals who have approved exemptions should upload their test results before returning to campus, and also must obtain a campus COVID-19 PCR test on Jan. 3 or 4, 2022. Campus testing remains available at no charge to campus community members. In addition, the UCSB COVID-19 Early Detection and Monitoring Program will continue throughout the winter quarter. All of the team's recommendations, including guidance for minimizing the spread of COVID-19 while traveling for the holidays, can be found in the December 10 communication.
Flu Vaccination Mandate
The Office of the President has issued an executive order making influenza vaccinations mandatory for all students and employees. The order, effective throughout the 2021-22 flu season, requires that all students and faculty and other academic appointees and staff members who live, work or learn on any UC campus indicate that they have received or declined to receive a vaccination. The UC Office of the President has developed FAQs for employees and FAQs for students to address general questions. Additional information is also available at Flu Vaccination Mandate 2021-22 and on The Current.
Housing Update
The university's response to the difficulties some students have faced in finding housing for fall quarter, which have been covered in local news media, is outlined in a message to the campus community. Among the items noted are the challenging rental market in Santa Barbara, Goleta and Isla Vista; housing contracts offered to undergraduate and graduate students; the university contracting with local hotels to provide rooms for fall quarter for students who had not been able to secure housing elsewhere. More details can be found in a September 24 message.
Masking Required Indoors on Campus
Effective immediately, all faculty and staff members, students and visitors to campus are required to wear face masks in all shared indoor spaces. The mandate, the result of a sudden increase in the number of COVID-19 cases on campus and in the broader community that is driven by the far more contagious Delta variant, is based on analyses and discussions by campus medical experts and the COVID-19 Response Working Group. The mandate also comes in the wake of last week's revised recommendation by the Centers for Disease Control and Prevention that everyone, regardless of vaccination status, wear a mask in public indoor settings in areas of substantial or high transmission, which includes Santa Barbara County. More information can be found in the Chancellor's COVID-19 Update: Masking Required Indoors on Campus. 
COVID-19 Prevention Plan
The Office of Environmental Health & Safety has updated its COVID-19 Prevention Plan, an all-inclusive preparation plan for mitigating the spread of COVID-19 within the UC Santa Barbara community amid the campus's gradual return to in-person instruction, research, operations and other activities.
COVID-19 Budget Update
Through key financial strategies and policies, the campus has weathered the budget shortfall for the 2020-21 fiscal year such that units and departments will not be called upon to implement one-time reductions this year. Details about the broader impact of the COVID-19 pandemic to the university's budget and how campus officials have responded may be found in the Chancellor's 2021 Campus Budget Update.
Travel Guidance
Additional notices from the Chancellor and others may be found in Messages to Campus.
Campus Mitigation Protocols
For faculty and staff members who are reporting to work on-site and for students who live in university housing or attend classes or conduct research on campus, a number of protocols are in place to mitigate the spread of COVID-19. Among them are the following:
Vaccine Policy
The UC Office of the President has established a systemwide vaccine policy, which requires all UC employees and students to be vaccinated against the SARS-CoV-2 (COVID-19) virus, including a booster shot if eligible, or receive an approved exemption before they will be allowed in any UC facility or office or to participate in any University programs. More information can be found in the Chancellor's UC Systemwide Vaccine Policy Update and at UCnet. In addition, the UC Office of the President has developed FAQs for employees and for students.
Face Coverings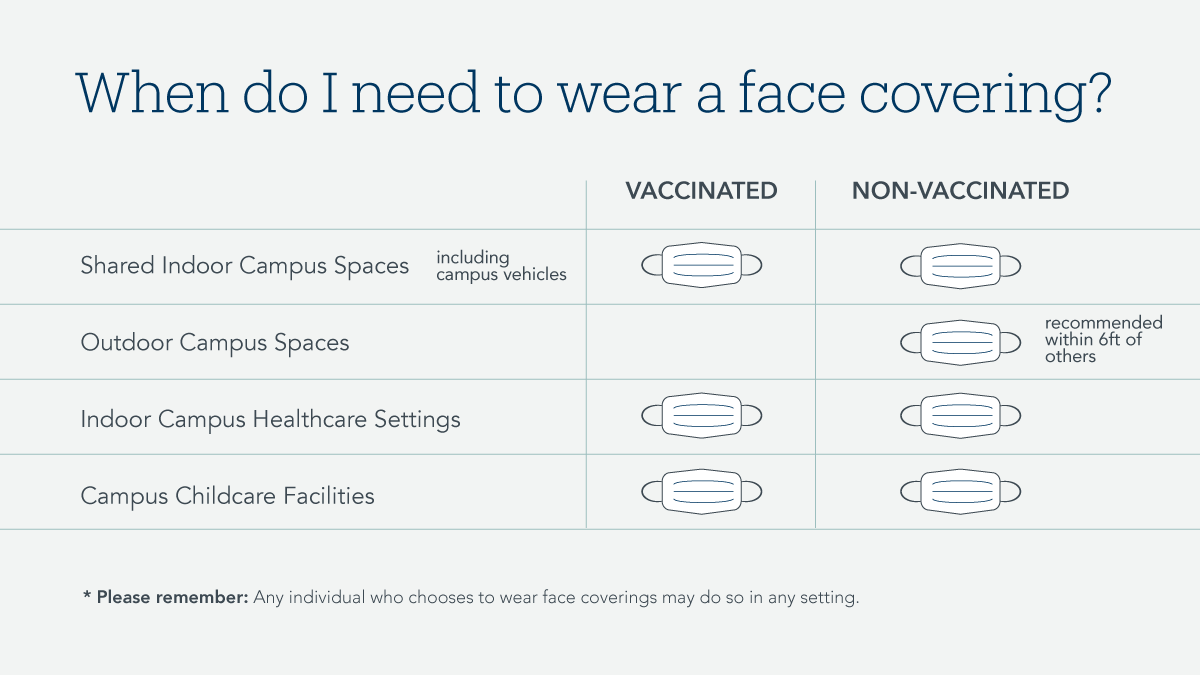 All individuals, regardless of vaccination status, are required to wear face coverings in all shared indoor campus spaces, including vehicles used during the course and scope of university employment, business or activities. Per Cal/OSHA, a face covering is a surgical mask, a medical procedure mask, a respirator worn voluntarily or a tightly woven fabric or non-woven material of at least two layers. A face covering has no visible holes or openings and must cover the nose and mouth. A face covering does not include a scarf, ski mask, balaclava, bandana, turtleneck, collar or single layer of fabric.
Appropriate cloth masks are tight fitting and made of materials that filter out small particles. They should have two layers of tightly woven cotton with a third layer of non-woven fabric, which could be a mask filter insert of a synthetic fabric such as polypropylene. They also should have wire nose bridges to reduce gaps from the nose and adjustable ear loops or straps that go around the head to reduce gaps from the face. Face masks lacking these properties should not be used in higher risk situations if other options are available. Less effective face masks include two-layer cotton masks, bandanas and gaiters.
Two face mask designs that feature transparent face panels have been approved for general use, from Safe 'N' Clear and ClearMask. Face shields require special approval from Human Resources Workplace Accommodations or the Disabled Students Program for specific medical conditions. The California Department of Public Health has developed a set of FAQs explaining why face shields are less effective in mitigating the spread of COVID-19. 
Employees, students and campus visitors are required to follow the Cal/OSHA COVID-19 Emergency Temporary Standards for the use of face coverings during an outbreak, and California Department of Public Health guidance for the use of face coverings in certain settings, including health care settings, public transit, indoor youth settings and mega events.
Face coverings are not required in the following situations:
Working alone in an enclosed office or room
Obtaining a service involving the nose or face for which temporary removal of the face covering is necessary.
Wearing a mask would create a risk related to their work, as determined by local, state of federal regulators or workplace safety guidelines.
Actively eating or drinking, provided they are able to maintain a distance of at least 6 feet from those around them.
Workers who are required to wear other respiratory protection.
Children under two years of age.
An alternate face covering may be used on campus in the following situations, after obtaining an approved accommodation from Human Resources or the UCSB Disabled Students Program: 

A medical or mental health condition or disability prevents wearing a face covering. This includes individuals with a medical condition for whom wearing a face covering would obstruct breathing or who are unconscious, incapacitated or otherwise unable to remove a face covering without assistance.
Individuals are hearing impaired or are communicating with someone who is hearing impaired, in which the ability to see the mouth is essential for communication.
Any employee who chooses to do so may continue to wear a face covering in any setting. In addition, any employee may request and be provided an N95 respirator from their supervisor if needed. Information on respirator fitting can be found here.
Physical Distancing
Vaccinated individuals are not required to maintain a specific physical distance, whether indoors or outdoors. For non-vaccinated individuals, Cal/OSHA recommends the use of face coverings outdoors when working within 6 feet of other people. 
Quarantine and Isolation
Information for individuals who test positive for COVID-19, think they may have COVID-19, or were exposed to COVID-19 can be found on our Health & Wellbeing page.
Cleaning
Frequent hand washing and surface cleaning is recommended. Disinfection should be performed in work areas where a COVID-19 exposure has been reported.
Campus Resources
Additional guidelines, including those related to the daily screening survey, weekly COVID-19 testing for non-vaccinated undergraduate students and the "COVID-19 Returning to Work Training" course required by Cal/OSHA and the California Department of Public Health, are outlined on the Return to Campus Requirements page.
Human Resources' Guidance for Staff and Supervisors During COVID-19 Impacts provides information and resources for staff and supervisors. Links on the page are updated as announcements are made and new information becomes available.
Environmental Health & Safety has posted its COVID-19 Prevention Plan, an all-inclusive mitigation and preparation plan for the campus's gradual return to in-person instruction, research, operations and other activities.
The Environmental Health Program at Environmental Health & Safety offers numerous resources, including general information, guidance documents, information on masks and face coverings, cleaning resources and infographics and signage.
In addition, campus community members are encouraged to activate CA Notify on their cell phones. CA Notify is a free COVID-19 exposure notification system for smartphones, made possible by the California Department of Public Health, to anonymously alert you if you've been exposed to COVID-19. Add your phone today by following the instructions on the CA Notify website.